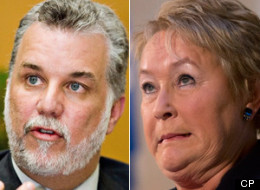 A new crop poll today reveals some damning trends for the Marois government. If an election were held today, Philippe Couillard would be the leader of a majority Liberal government. The poll also dips into federal politics giving Justin Trudeau's Liberals the edge over Thomas Mulcair's New Democrats in the province.
The poll found 68% of Quebecers thought the Quebec government is going in the wrong direction, while only 32% thought it was going in the right direction.
Support for sovereignty is at all time lows as well, if a referendum were held today, 64% of Quebecers would vote no and chose to stay in Canada while only 36% would support sovereignty.
In terms of voting intentions, the Liberals would lead a majority government.
| | Overall | | |
| --- | --- | --- | --- |
| | | | |
| | | | |
| | | | |
| | | | |
| | | | |
These numbers continue to speak contrarily to Pauline Marois's wishes for a PQ Majority government. It appears that not only are Quebecers tired of sovereignty talk, they are tired of the division and useless fights Marois picks rather than focusing on important topics like the economy.
Meanwhile, Trudeau's Liberals continue to lead the NDP federally.
| | Overall | | |
| --- | --- | --- | --- |
| | | | |
| | | | |
| | | | |
| | | | |
What do you think of the results of the crop poll? Share this article, join the discussion and let us know what you think:
Facebook
,
Twitter
,
Google+