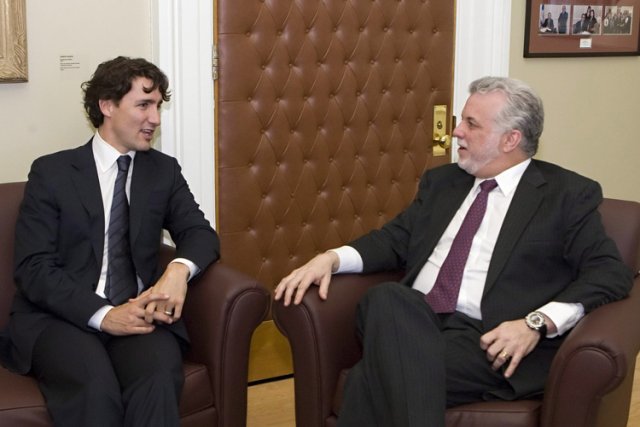 It has barely been 8 months and with a disapproval rating of 65%, PQ Premier Pauline Marois would be shown the door if an election were held today. In both provincial and federal politics, the Liberals are set for crushing victories in the province. A new CROP poll shows Language Minister Diane de Courcy has reason to fear of catastrophic consequences to her Bill 14,
Francois Legault is much nicer than most Quebecers
in this regard. The numbers speak for themselves.
The poll was conducted between April 17 and 22 and surveyed 1000 people. The first set of results show Liberal leader Philippe Couillard would be Premier of a majority government if an election were held.
| | | | Percentage Non-Francophones | | | |
| --- | --- | --- | --- | --- | --- | --- |
| | | | | 69 | | |
| | | | | | | |
| | | | | 16 | | |
| | | | | 4 | | |
| | | | | 1 | | |
The poll shows significant gains to a very popular Philippe Couillard who shouldn't have any issues defeating Marois in the next election. It is worth noting that in a political environment of growing fatigue and a large rate of discontentment to the PQ, that Couillard was bound to get the boost anyway.
The poll also asked which leader would be the best Premier of Quebec. Couillard led with 28% followed by Marois with 16% and Legault with 14%.
Here's some Guide to Building a Country 101 for Pauline Marois: When you're Prime Minister of a country, the single most important thing that matters to you is national unity. Prejudice laws like Bill 14 go against your mandate of leading a country, let alone a province. Don't take my word for it, just take a look at the numbers. Having only 1% of the non-francophone vote is not only troubling, it is detrimental to a Prime Minister of a country that will be multicultural one way or another. It is also worth noting that the non-francophones have united against you with 77% to the Liberals. It is very important to point out that the province isn't divided as francophone vs. non-francophone because there isn't even a strong francophone support for Marois.
The poll also sends a strong warning to Francois Legault's CAQ: You won't gain the trust of non-Francophones if you're pandering on legislation they don't consider to be valid in the first place. Legault's best bet would be to prove he is an alternative to the Liberals and to do so, it will mean disregarding the PQ and trying to edge them out to third place. To do so, he mustn't take PQ stances, but rather follow the Liberals up to certain points of economic disagreement. Taking this road would do Legault well if ever Quebecers get fed up of the Liberals.
The small socialist Quebec Solidaire party is picking up from where the PQ are shedding. They would double their seat count in the National Assembly and likely take a good chunk of the student vote that aided Marois become Premier so she could put a dagger in their backs and work to destroy the province. The Quebec Solidaire should start making some of their ideas more pragmatic and make their social changes more appealing by diluting the magnitude of the changes they wish to introduce. It would anger a lot of the socialist base in the Quebec Solidaire but like the federal NDP, no one will take them seriously to govern if they're promoting a radical socialist agenda - even in a socialistic province like Quebec.
The CROP poll also shows a shift on the federal side of Quebec politics giving Justin Trudeau's Liberals a boost over Thomas Mulcair's NDP in support, but not in seat count.
| | | | Percentage Non-Francophones | | | |
| --- | --- | --- | --- | --- | --- | --- |
| | | | | 31 | | |
| | | | | | | |
| | | | | 4 | | |
| | | | | 2 | | |
The federal numbers look similar to the provincial numbers except the NDP, while courting to soft nationalists, still attracts an amount on the left of the political spectrum that wouldn't consider a vote for the Liberals. The governing Conservatives aren't seeing any better fate pitted to a distant last place in the province.
What do you think of the poll results, are you part of the visible Liberal revival in Quebec?
Share this article,
j

oin the discussion and let us know what you think:

Facebook

,

Twitter

,

Google+

.